Oak Estates has a long-standing reputation of providing high-quality health care services in a home-like environment to adults 55 and older..
Located in Conrad, Iowa, Oak Estates is a Senior Living Community that offers comfort, privacy and security, along with the op­portunity to maintain the highest possible degree of independence for today's active senior.
Freeing you from the responsibilities of home ownership, Oak Estates offers beautiful one and two bedroom apartments that are tastefully decorated, spacious and comfortable. You would then add your own personal touch with your furnishings and keepsakes.
---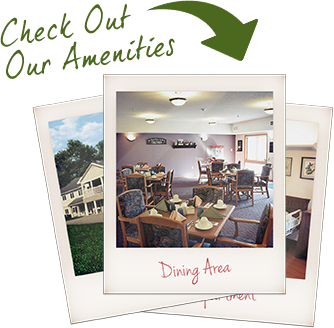 All one and two bedroom apartments include utilities, lawn care, landscaping and snow removal. Each apartment features a beautifully furnished full kitchen which in­cludes a double sink, stove, hood, refrigerator, dishwasher, garbage disposal, and micro­wave. A full bathroom with shower facilities, plus ample closet space provide all the comforts of home.
In addition to these comfortable features, each tenant can rely on the following services as part of their regular monthly fee:
State-of-the-Art Emergency/Personal Response System
24-hour Availability of Staff
Daily Meals Including Lunch & Dinner
Individually Controlled Heating/Cooling System
Daily Wellness Checks
Care Plan Development
Assistance with arranging Physician & Nursing Care
Coordination of Home Health Care Needs
Coordination of Physical, Occupational, & Speech Therapies (Tenant is responsible for arranging service & paying monthly fee to service provider)
Oak Estates also offers the convenience of an onsite Beauty Salon/Barber Shop (This service is available to all tenants at an additional per service charge).
Come see why we love to say, "Welcome to Oak Estates, Welcome Home!"
Sincerely,
Kara Butler, Administrator
Tenants
---
Oak Estates tenants are free to come and go from their new home as they please. Many of our tenants enjoy outside activities within the community and surrounding area. Tenants also enjoy the variety of activities that are scheduled right at home at Oak Estates.
Transitioning
---
We believe in your independence and want to see you thrive and enjoy life at Oak Estates. Our dedicated staff will work with you and your family to make your transition to Oak Estates an easy one. Start living worry free, leaving all the responsibilities of home ownership and maintenance to us.
Dining
Tenants enjoy the delicious meals served at Oak Estates and socializing during lunch and dinner mealtimes in our community dining room.
Friendly Staff
At Oak Estates a caring staff member or fellow tenant is always close by when you need a helping hand.
Visiting Hours
Our tenants families are always welcome at Oak Estates. Enjoy dinner with your family in our private dining room or celebrate your next birthday with family and friends in our large community dining room.